When underwriting surety bonds for construction businesses, we have to look at several issues to gauge the company's risk level. In the current market, we see three major issues threatening the health and stability of businesses in the construction industry. These are the lack of qualified, skilled labor; the continued shortage of construction materials; and the fact that more businesses fail in a recovering economy than in a struggling one.
The shortage of skilled labor
Despite a strengthening economy, construction businesses are having a difficult time finding workers. According to a study by the US Chamber of Commerce in June, "88% of contractors report moderate-to-high levels of difficulty finding skilled workers. Of those, nearly half (45%) report a high level of difficulty".
Construction materials continue to be in short supply and much more expensive than they were 18 months ago. According to Construction Dive magazine, these shortages are not expected to go away anytime soon.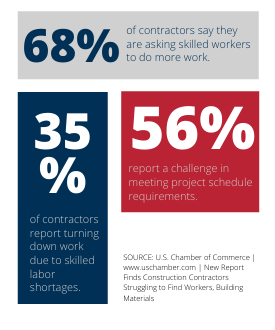 When we underwrite a construction project, we always ask whether there is an escalation clause in the contract and if the project has a high percentage of material. We also inquire whether the company has an available bank line to bridge that period between purchasing materials and getting paid by the client. We focus on tracking job profits with quarterly work-in-progress reports, paying particular attention to larger under or over-billings.
We have already addressed this several times this year. Especially when looking to stretch on job size, it's essential to ask about materials. For example, will the clients (and most importantly, the CONTRACT) consider a scenario where some materials/supply lines are slower than expected or unforeseen shortages? Will clients allow for full payment of materials up-front? Do contractors (or even the clients) have a place to store pre-purchased materials safe from theft and vandalism?
Construction companies have a higher risk of failure in a recovering economy
Lastly, early in the surety business, we learned that more contractors fail in a recovering economy than when the economy is tanking. Every potential business owner who thinks they have the skills starts a construction company. The more new start-up companies there are, the more business failures there will be.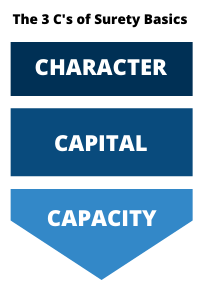 Many new business owners don't understand that being a skilled employee is one thing; running a successful business is something else entirely. Some will thrive, but most will struggle to work their business and manage employees, finances, and clients. From an underwriting standpoint, capacity and experience are as important as capital to survive and thrive in a recovering economy. Slow controlled growth will almost always win in the end.
Even successful long-time companies are not guaranteed success in a recovering economy. We see good contractors get overwhelmed with too much work, jobs too large for their capacity, and insufficient working capital to cope with growing pains. On top of all that, they have to deal with a more competitive job market and may lose key employees at the worst possible time. Increasingly, they may not be able to find enough skilled help.
To thrive in this challenging market, we advise contractors to focus on surety basics--the 3 C's of character, capital, and capacity. Next, pay attention to large bid spreads and carefully review contracts and bond forms for onerous language. Finally, find the best fit for the contractor with a stable surety market.